To just read the text, here it is.
Peter Alliss, the legendary BBC golf commentator, has died at the age of 89.
Alliss, known as 'the voice of golf' to fans around the world, has been synonymous with the BBC's golf coverage for more than half a century.
Having first appeared on the BBC in 1961, he was made lead golf commentator in 1978 after retiring as a player.
"It is with great sadness we announce the passing of golfing and broadcast legend Peter Alliss," said Alliss' family.
In a statement, they described his death as "unexpected but peaceful".
They added: "Peter was a devoted husband, father and grandfather and his family ask for privacy at this difficult time."
Alliss provided the soundtrack to many of golf's most memorable moments, with November's Masters the last tournament he covered.
"Peter was the voice of golf. He was an absolute master of his craft with a unique ability to capture a moment with a magical turn of phrase that no one else could match," said Barbara Slater, director of BBC Sport.
As a player, Alliss won 31 tournaments and he and his father Percy were the first father-son duo to compete in the Ryder Cup, when it was a contest between Great Britain and the United States.
In 2012, he was inducted into the World Golf Hall of Fame in the Lifetime Achievement category.
'One of the greatest broadcasters of his generation' – Alliss as commentator
After retiring from playing golf – in a professional sense, at least – Alliss moved into the commentary booth, where his descriptive and dead-pan style became the soundtrack to the BBC's coverage of major golf events.
"His inimitable tone, humour and command of the microphone will be sorely missed. His often legendary commentaries will be long remembered," said the BBC.
Alliss' first experience behind the microphone came at the 1961 Open Championship, remarkably, in the same tournament he was challenging Arnold Palmer on the course.
Between trying to stop the American great claiming victory, with Alliss eventually finishing seven shots adrift of Palmer, the Englishman also cut his teeth analysing his fellow competitors.
In 1978 he was appointed the BBC's chief golf commentator following the death of his co-host and great friend Henry Longhurst.
"I'm there as an old player, a lover of the game and a good weaver of stories," is how Alliss once described his television role.
To the majority of British golf fans – and many more across the world – his soothing voice became synonymous as the audio accompaniment to the likes of Seve Ballesteros, Nick Faldo and Tiger Woods winning the sport's biggest prizes.
Only a few weeks ago, Alliss described the moment when world number one Dustin Johnson won the Masters at Augusta National Golf Club.
"After six decades behind the microphone, he was just a month ago at the incredible age of 89 doing what he loved – commentating for the BBC on the Masters," said Slater.
"He transcended his sport as one of the greatest broadcasters of his generation."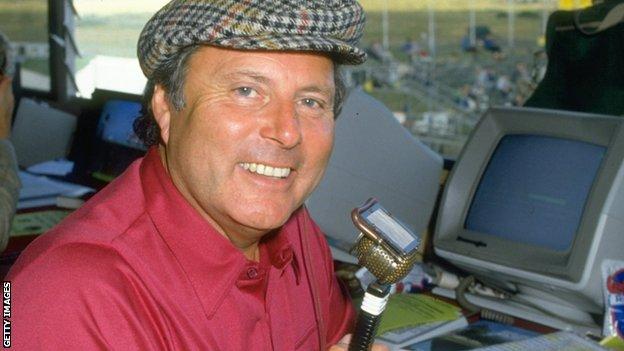 'He's gone ga-ga' – Alliss' most memorable quotes
"What on earth are you doing? He's gone ga-ga. To attempt to hit the ball out of there is pure madness." – 

his iconic description of Frenchman Jean van de Velde taking off his shoes and socks and wading into the Barry Burn on the final hole of the 1999 Open at Carnoustie.

"It's like turning up to hear Pavarotti sing and finding out he has laryngitis." – 

reflecting on Tiger Woods shooting a third-round 81 at the 2002 Open.

"Looks a bit like Jurassic Park in there." – 

describing the rough on the 14th at Royal St George's, host of the 2003 Open.

"One of the good things about rain in Scotland is that most of it ends up as scotch." – 

on poor weather during a tournament in Scotland.

"That really is a settler. Better than Alka Seltzer." – 

after watching Northern Ireland's Darren Clarke sink an early final-round putt on his way to winning the 2011 Open.
Following in his father's footsteps & teaching James Bond – Alliss as a player
With his father Percy established as one of England's leading professional players in the 1920s and 1930s, it was perhaps inevitable the golf genes were passed down to Alliss.
Alliss was born in Berlin, where his father was the professional at the glamorous Wannsee club, and apparently weighed a European record 14lbs 11oz when he arrived in 1931.
Those hereditary blessings helped him blossom into a fine ball striker himself, establishing Alliss as one of the brightest young players of the time.
Between 1954 and 1969, he won 21 professional tournaments – including three British PGA Championships – and was twice winner of the Harry Vardon Trophy, given to the leading European player of the year.
The biggest title evaded him, however. Alliss came within four shots of lifting the Claret Jug in 1954, one of five top-10 finishes he had at the Open Championship.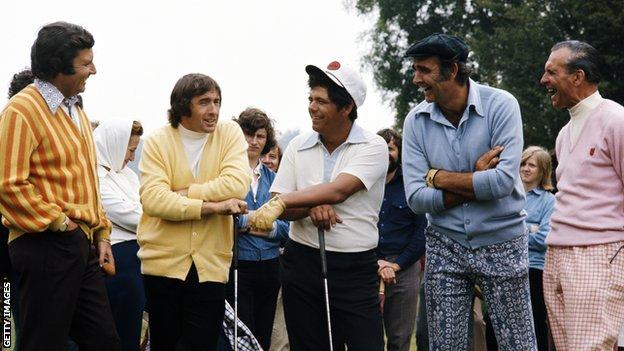 Part of the reason he did not claim more of the biggest individual prizes seemed to be his infamously unreliable putting.
"I began to twitch on the short putts," he said after his decision to retire from the international game aged 38.
Yet, with the same self-deprecating humour he would bring to his commentary, Alliss made light of his deficiency.
Each of his luxury cars – one of the things his princely golf earnings of £30,000 allowed him to indulge – was said to have been fitted with a personalised number plate: '3 Put'.

Obituary
by Iain Carter, BBC golf correspondent
He won more than 30 tournaments at home and abroad including the Spanish, Italian and Portuguese Opens. But it is for his broadcasting skills that he will be most remembered.
Golf gravitas was supplemented by sharp wit and whimsy that made his a uniquely charming voice. It brought him millions of fans on both sides of the Atlantic.
As golf grew ever more popular, he became one of Britain's most famous figures, hosting the highly successful Pro-Celebrity Golf programme on BBC television and his own chat show 'Around with Alliss', which attracted many of the biggest entertainment stars of the 1970s and '80s.
His influence on golf stretched far and wide. He had a course architecture business with Dave Thomas that included among its commissions The Belfry, which has hosted four Ryder Cups. Alliss also wrote several books on the game.
He was a traditionalist who enjoyed the peculiarities of golf club life and he remained a brilliant and buoyant raconteur until the very end. But above all, he was still interested and fascinated by the sport. He was determined to carry on commentating, looking forward to being there for the 150th Open at St Andrews in 2022.

'Golf will never be the same' – Lineker & Cleese among those paying tribute
Following the news on Sunday of Alliss' death, tributes poured in from former and current players, golf's governing bodies, celebrities, journalists and fans.
The European Tour said it was "deeply saddened" at his death, describing him as "truly one of golf's greats".
"Nobody told the story of golf quite like Peter Alliss," he added.
"He captured golf's drama with insight, wisdom, and humanity. He was a legendary commentator."